Online Test Prep & Admissions Coaching Made Awesome
With over 20 million YouTube views and 200K+ YouTube subscribers, we make video prep more awesome. Our college admissions and essay coaching and online test prep classes and self-paced courses for the ACT® and SAT® engage and inspire the future achievers of tomorrow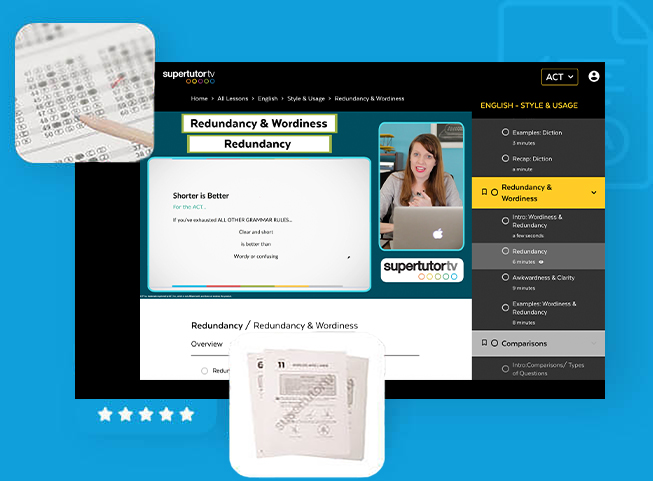 For now, get started with our awesome self-paced courses for the ACT®. We recommend students WAIT to purchase the Digital SAT course as we'll have our best deal EVER on any course upon launch. SAT course purchasers on or after May 2, 2023 can switch for FREE to the Digital SAT course once it's available for the duration of their subscription.
*Beta Release date for existing subscribers on or before December 2nd, 2023; initial release may be a Beta version with fewer practice tests or exercises than our full version. Release to general subscribers is tentatively scheduled for December 7th, 2023. 
The Best Self-Paced Test Prep
Created by Stanford educated ACT®/SAT® perfect scorer and private tutor Brooke Hanson, our video-driven, online, self-paced SAT® and ACT® courses offers a more personal feel than most online courses, with both a face and white board on screen, just like Brooke shares in her tutoring sessions.
More Awesome.
Less Boring.
Our ACT® & SAT® courses are designed by video pros. Before Brooke was spreading tutoring awesomeness on the top SAT®/ACT®/College Admissions YouTube channel, she was interviewing celebrities like Tom Hanks for Stand Up to Cancer, co-producing a documentary for public television, and working on Yahoo! original videos with Emmy nominated host Cat Deeley.
Our course is the only online course that lets you take drills how you test– on paper for the ACT® and paper SAT®, and online for the digital SAT® (coming soon!).  On the ACT® course, we'll ship you a free copy of the official test maker's study guide*, and offer you pdf downloadable drills, so you can practice how you test: on paper. Our Digital SAT® course (launching soon!) has on screen exercises and an original practice test (with three more on the way), so you can practice on screen like test day.
(*This course is not affiliated with or endorsed by the College Board or ACT Inc., makers of the SAT® and ACT® respectively; physical books ship to US addresses only).
Test Drive our ACT® Self-paced Course for 5 Days Risk Free!*

* Must opt in upon sign up. Many course assets are unavailable until subscription is paid, including most downloads. The book included with the course ships after the trial period ends.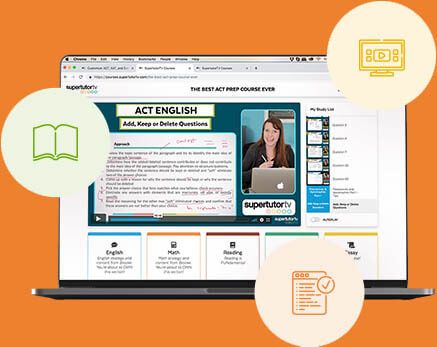 Tired of clicking through pages that feel like a book on a screen? Watch our sample videos below and you'll see there's no online self-paced prep comparison when it comes to quality, engaging, and inspiring video content.
An SAT® and ACT® perfect scorer, Stanford grad, and your guide to getting your best score!
Evidence Based Learning
Studies show that students learn better when they take tests and learn from their mistakes. Through our course, students take practice tests to diagnose specific weaknesses, then focus on those trouble spots: the formula the best private tutors use.
Practice that Models Test Day
Pro Tutor Advice
Higher Scores, or Your Money Back
We Support Our Students


"My son is currently working through your self paced course, after switching from another prep course. We were not seeing enough improvement with the previous course, so we went in search of video content to supplement the course we bought. After much searching, I found your series and LOVED it! We bought your course on Sunday and worked through the English portion of your "Official ACT® Prep Guide" Test 3 review. He took the English portion of the free practice exam on Monday and raised his score by 6 points! WOW! He has severe test anxiety and ADHD, so this increase was HUGE! THANK YOU!!!!"


"…thank you so much for all of the videos! I bought your ACT® prep course, and it helped me raise my score from a 31 to a 35."


"Hi Brooke, You and I met over Skype back in late December to talk about how to best use The Best ACT® Prep Course Ever along with how to go about ironing out certain timing issues.I am pumped to say that I made a 33 composite on the February exam (36 E 34 M 33 R 27 S)! In a perfect world it would have been a 34, but I'll take it! Especially since I started with a 25!! Anyway, I greatly appreciate you taking the time that day to speak with me. You helped clear up a lot of the issues that I was having, and I know that I wouldn't have been able to improve as much as I did without your help! Thanks so much"


"I am finished with my prep course and I found it extremely helpful. Thank you! When I first took the ACT®, I scored a 24 and, after using this prep course, I scored a 30. I was so happy and excited when I checked my score. I have been offered admission to numerous prestigious and selective colleges/universities and I know that this course was a crucial part of my college success. I am so happy to say that I'll be attending my dream school, Hamilton College, and I can't thank you enough for making this course because it helped me tremendously. Hamilton's average ACT® score of 32 and their acceptance rate of 18% seemed so daunting when I first fell in love with the school; I thought I had no chance of getting in. I am so thankful for this course and everything it has helped me to achieve! Thank you, again, for creating this course!


"I wanted to say thank you for the private tutoring sessions and the online program. My score went from a 31 to a 35! I was that kid that scored 24 on the reading sections at the beginning. When I took the real test, I got a 36 on that section!! I couldn't believe it! Tell Brooke thank you!"


"I would like to thank you! I took your ACT® prep course and received a 35 composite."