The Best ACT® Prep Course Ever
Why Choose Our Self Paced Course?
5 point Average Score Increase.
Our users have improved up to 12 points overall!
Our average score increase is HIGHER than any competitor's!*
Practice that Models Test Day
The only online self paced course that lets you print 1000+ practice questions and drill on paper, the same way you'll take the test**.
Includes a free copy of the Official ACT® Prep Guide***, so you can track your progress on real tests and customize your study based on the results.
Maximizes student engagement with videos that include both a face and handwritten work.
Our 20 million+ views on YouTube are proof that people love our content!
Created by a professional TV and documentary producer.
* As self-reported by users. Compared to available public reviews on Magoosh.com (1/2020), advertised average improvement according to Kranse Institute (1/2020), and advertised average improvement according to Green Test Prep (10/2019). Competitor data not publically available for some sites.
** International students and some school-day test takers take the test on a computer. All our files can also be viewed on a screen in any PDF viewer. Digital ACT offerings begin pilots in December of 2023.
*** US only. International students will receive a web-accessible eBook version of the Official ACT® Guide. This course is not endorsed by or associated with ACT Inc.
Many courses are designed by high scorers, but our course was designed by a great tutor.
Perfect ACT® Tutor! Brooke has coached students to perfect ACT scores and many more students to perfect scores in individual test sections. Plus, several students who have used our course have reported perfect 36 composite scores!
As you would with a private tutor, you'll do tests and practice on paper, go over the skills that specifically relate to questions you missed, and get suggestions of additional videos and worksheets to follow up on your weaknesses.
Perfect ACT® Scorer!*
Stanford BA with Honors, University of Southern California MFA in Film
15+ Years One-on-One Tutoring Experience
* Brooke scored 36 composite as an adult on an official ACT® administration and has coached multiple students to perfect 36 scores, and have at least 2 students who've signed up for our course report they've scored perfectly on the ACT®.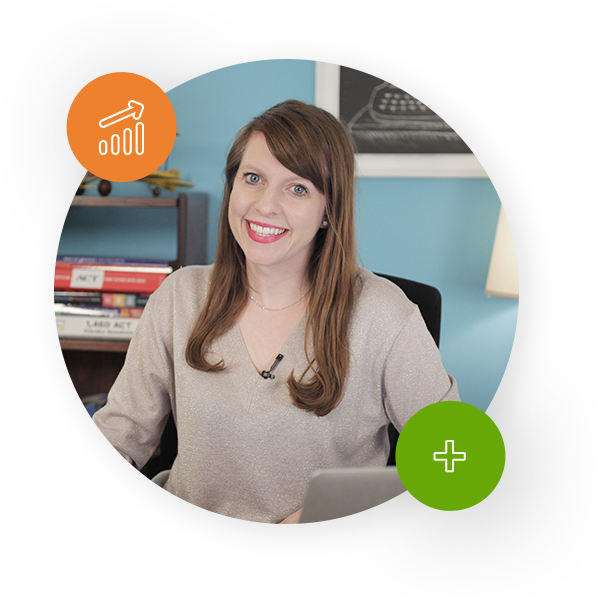 "My son is currently working through your self paced course, after switching from another prep course. We were not seeing enough improvement with the previous course, so we went in search of video content to supplement the course we bought. After much searching, I found your series and LOVED it! We bought your course on Sunday and worked through the English portion of your Test 3 review. He took the English portion of the free practice exam on Monday and raised his score by 6 points! WOW! He has severe test anxiety and ADHD, so this increase was HUGE! THANK YOU!!!!"


"Hello! I am finished with my prep course and I found it extremely helpful. Thank you! When I first took the ACT, I scored a 24 and, after using this prep course, I scored a 30. I was so happy and excited when I checked my score. I have been offered admission to numerous prestigious and selective colleges/universities and I know that this course was a crucial part of my college success. I am so happy to say that I'll be attending my dream school, Hamilton College, and I can't thank you enough for making this course because it helped me tremendously. Hamilton's average ACT score of 32 and their acceptance rate of 18% seemed so daunting when I first fell in love with the school; I thought I had no chance of getting in. I am so thankful for this course and everything it has helped me to achieve! Thank you, again, for creating this course!"


"Thank you. I went from a 21 to a 30."


"I was emailing to let you know that with just 2 weeks of prep using your course I scored 4 points higher. I was stuck at a 24 for a year. I prepped on my own and took several tests but could never pull it up. 2 weeks before the September ACT I signed up for your course. I ended up making a 28. Thanks!"


"…thank you so much for all of the videos! I bought your ACT prep course, and it helped me raise my score from a 31 to a 35."


"Hi again! I wanted to say thank you for the private tutoring sessions and the online program. My score went from a 31 to a 35! I was that kid that scored 24 on the reading sections at the beginning. When I took the real test, I got a 36 on that section!! I couldn't believe it! Tell Brooke thank you!"


"I would like to thank you! I took your ACT prep course and received a 35 composite."


"Hi Brooke, You and I met over Skype back in late December to talk about how to best use The Best ACT Prep Course Ever along with how to go about ironing out certain timing issues. I am pumped to say that I made a 33 composite on the February exam (36 E 34 M 33 R 27 S)! In a perfect world it would have been a 34, but I'll take it! Especially since I started with a 25!! Anyway, I greatly appreciate you taking the time that day to speak with me. You helped clear up a lot of the issues that I was having, and I know that I wouldn't have been able to improve as much as I did without your help!:) Thanks so much"
It's not just another "online course" – it's the closest you can get to elite private tutoring at a fraction of the price.
We didn't set out just to make an "online" course. We set out to bring the awesome advantages of private tutoring to more students: the best instruction, awesome materials, and patterns of learning that work.
What's Included with the Course?
70+ hours video instruction.
Strategy Videos for all Sections.
Analysis of 8+ practice exams & suggested videos to help you review the specific skills necessary for the English, Math & Science questions you've missed**
Essay Writing Tips.
Digital access to all content in our Best ACT® Math Books Ever (45 chapters of math instruction and 1000+ practice problems).
Video walk-throughs for ALL chapter lessons in the Best ACT® Math Books Ever.
Downloadable course notes for select videos.
Grammar Lessons for all question types in the English section.
English drills for all ACT® English question types.
Suggested reading and science drills.
Pacing Guides to help you get the most from the course in the time you have to prep.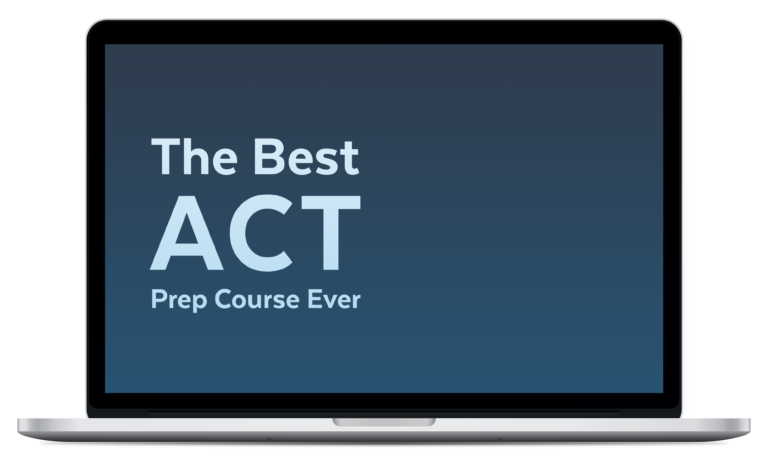 Customizable Study List
Calculator Programs.
Science & Math formula "cheat sheets".
A Copy of the Official ACT® Prep Guide.*
Guaranteed access through the next available national test date in your area.
* Ships to USA only; international orders will receive an online code for web accessible eBook access. This course is not endorsed by or associated with ACT® Inc.
**Reading questions  not included in video suggestion engine as they are not based on single specific outside content or skills, but rather draw on a more complex combination of strategies.
See Clips from our Course
Check out some of our course offerings. Experience the learning awesomeness!
ACT Math - Sequences & Series
Test Drive our Course for 5 Days, Risk Free!*
* Must opt in during sign-up. Some course assets are unavailable until subscription is paid, including most downloads. The book included with the course ships after the trial period ends.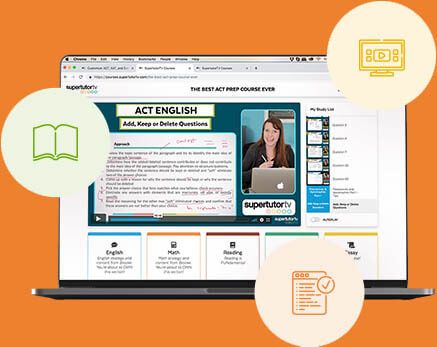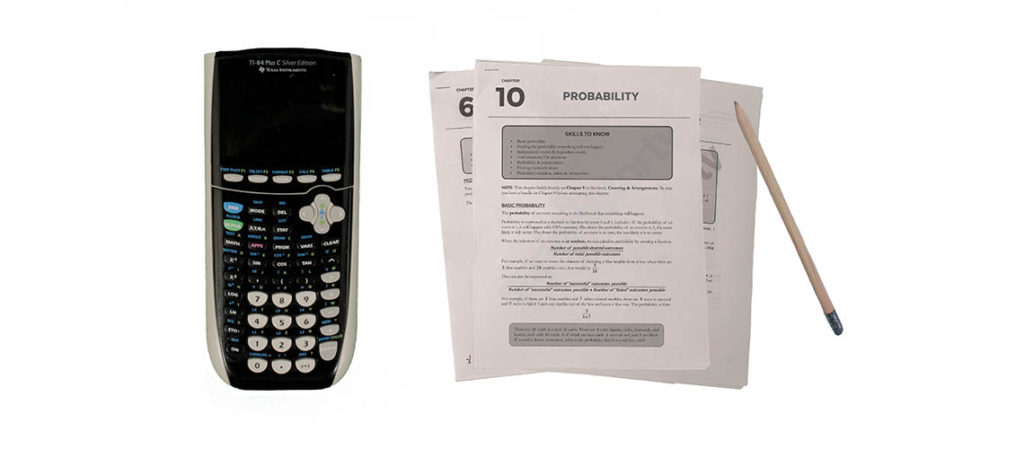 Download a Free Sample Worksheet!
Download "Probability" packet from our ACT® course materials.