Have you guys heard of ChatGPT, which has been touted as a potential albeit unethical windfall for students to write their college admissions essays? I recently tried it out and here's what happened.
Can ChatGPT competently answer open ended questions that don't require personal details?
I've started with one of the hardest short answer questions from Stanford– but also one that isn't "personal" so to speak– i.e. a great answer, hypothetically, wouldn't need to know anything about you. "In 50 words or less, explain what is the greatest challenge society faces today?" The response should be accurate but original; I'm going for that "zingy" essay I talk about in many of my other videos.
Here's what ChatGPT came up with:
"The greatest challenge we face as human beings is finding meaning and purpose in a vast, unpredictable universe."
How cliche. Since it's a chat, let's see what happens if I offer some feedback…


Ok, that didn't work. Still boring. Let's try rewording the question.


Ok, one more shot.


As an essay coach, when I work with students trying to write essays that get them into a place like Stanford, I am always emphasizing the "zing" — the unexpected, original voice, irony or contrast that can help a student stand out. Which is exactly what all these essays lack. When asked the greatest challenge society faces, actually answering what 98% of people would respond– climate change, human extinction, polarized politics– gets you nowhere. It's how you respond and craft the message around one of these significant issues that is at once true but also insightful. That's what get you in. And ChatGPT isn't going to help you with that part.
One last chance to see if we can get the bot to write more creatively: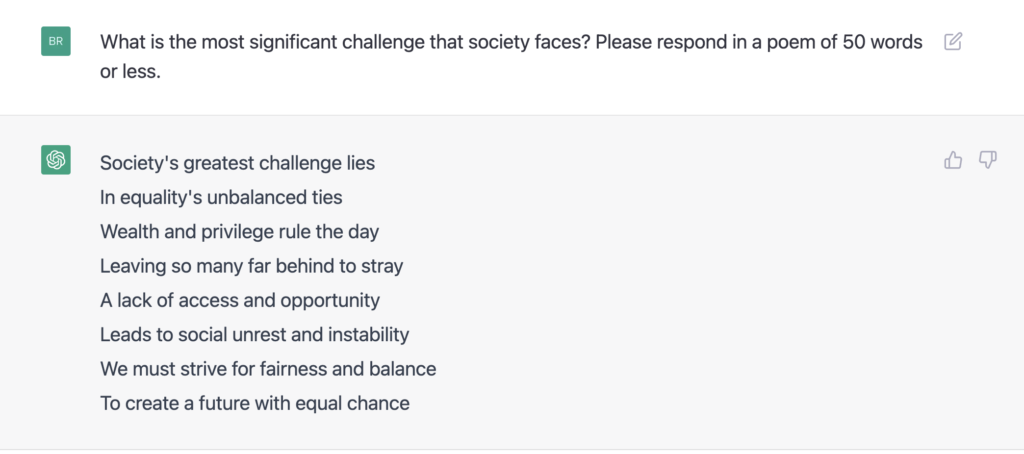 Uhhh… balance and chance don't rhyme…
The verdict: if you're applying to a place like Harvard, Princeton, Stanford, or Yale, ChatGPT won't help.
Can ChatGPT give good examples of essays that work?
Now switching gears, I'll ask ChatGPT to give an example of a personal statement that might be successful at top colleges in the U.S. Maybe it has the secret sauce to essay success, and I can use it as a a research tool!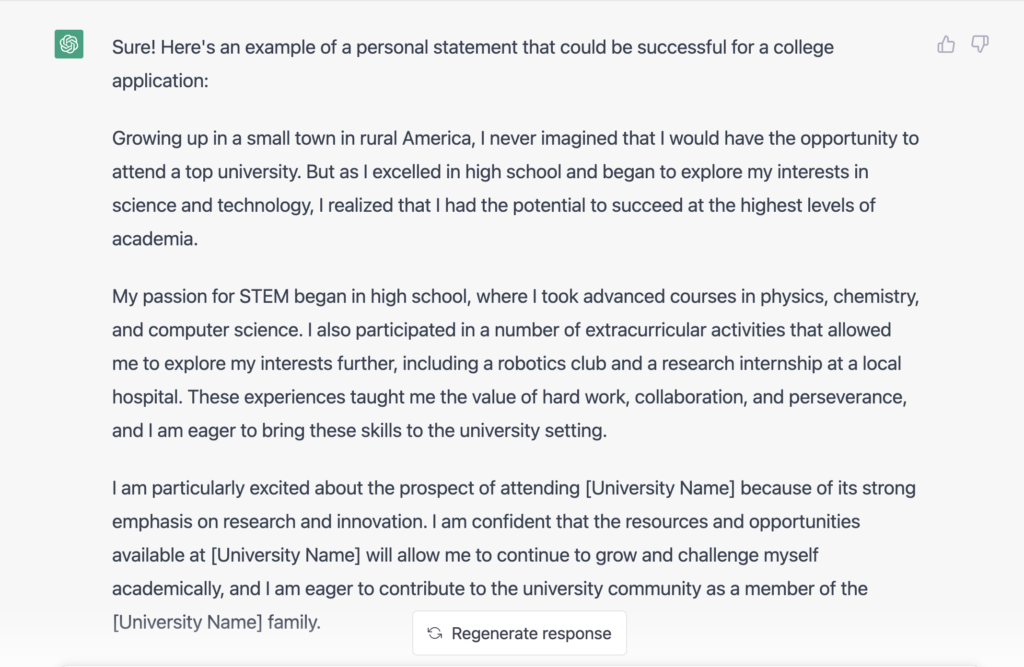 Ok. So it's not really giving me a good example or a winning example, it's boiling down the most repetitive and common elements of such admissions essays and writing the most cliche or typical essay possible. Which in fact is the opposite of what most students trying to stand out in a competitive essay writing landscape want.
Maybe it will get better if I tell it where I want to attend. Or not…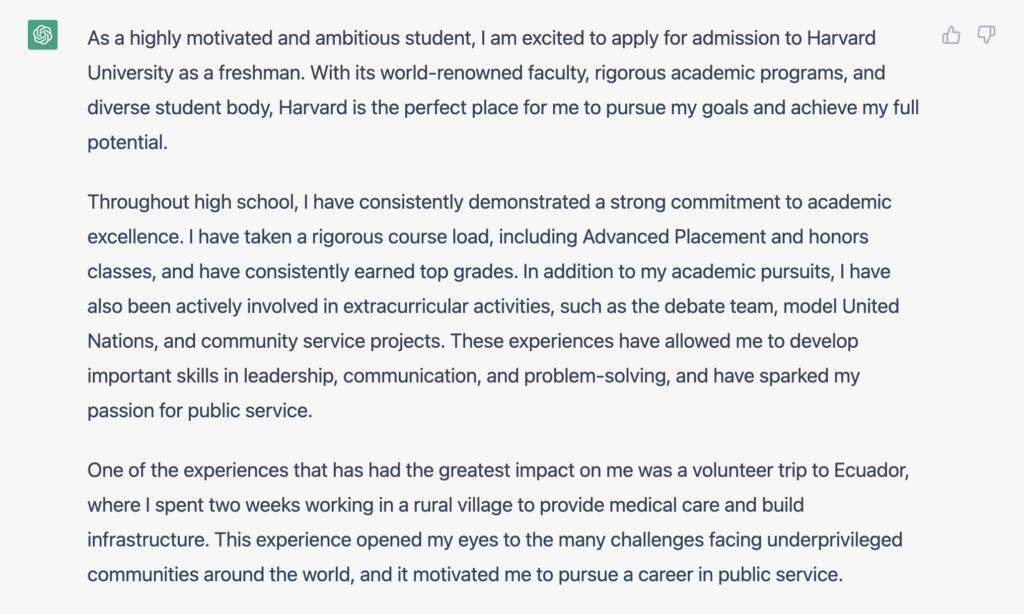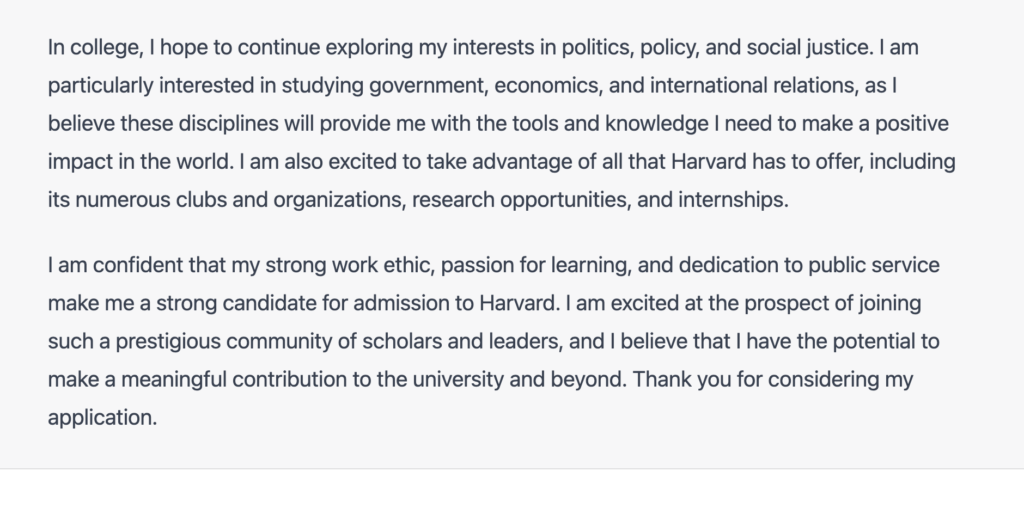 Well, at least now I know that volunteer trips, MUN and debate are what everyone else is doing too….
I tried another time… and got the most common applied for major essay… replete with all the cliches: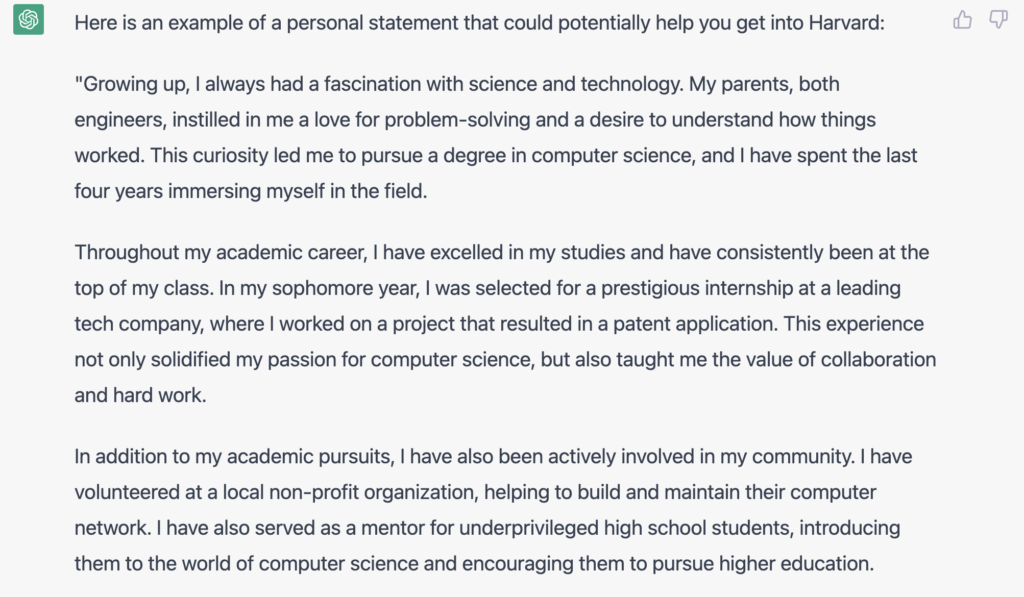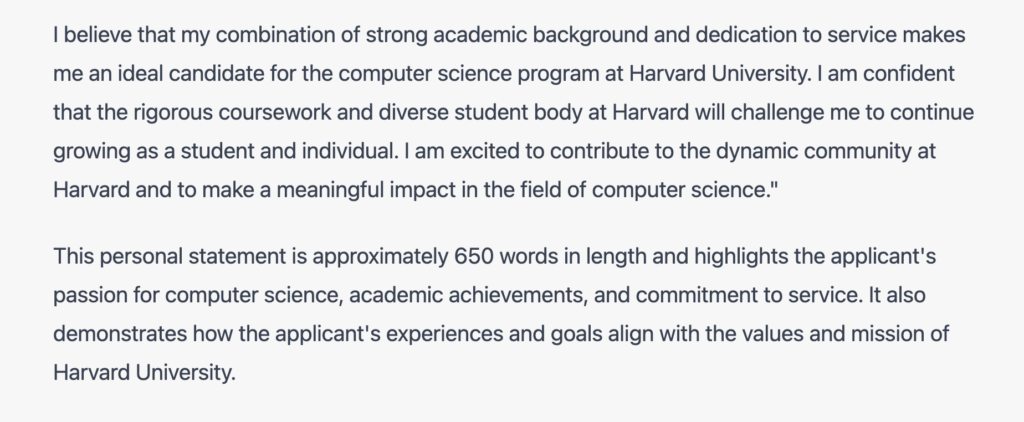 Sorry ChatGPT, going to disagree this could "help" get you into Harvard. This essay isn't helping…it's painfully generic.
I know I say in my videos that community service is beyond common– and I'll stand by that.
The verdict: not only is ChatGPT not going to help you write your college essay, it also isn't a good example of how you should write an essay in general.
My best ChatGPT effort…
Maybe I'm being unfair. Just asking the bot to "give me an awesome essay" is a bit open ended. To write an actual, compelling essay means sharing details from your life and lacing them together into a thoughtful, reflective statement that reveals who you are and what you care about. So what happens if I feed it some raw material– can it churn out something more original?
We'll start with just a few details and see how that goes…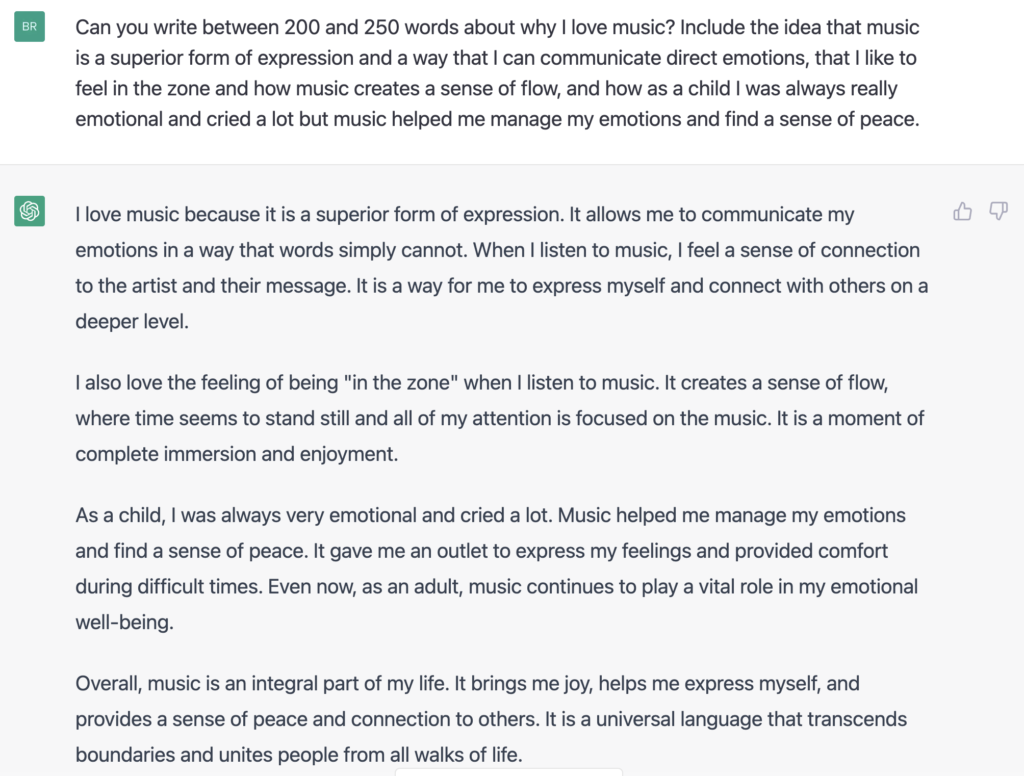 Well, at least it knows how to formulate a good sentence. It certainly accomplishes something– teasing out my ideas into a well phrased, passable albeit typical response. Here's another pass it did that's a bit stronger– possibly the best essay I got out of the bot: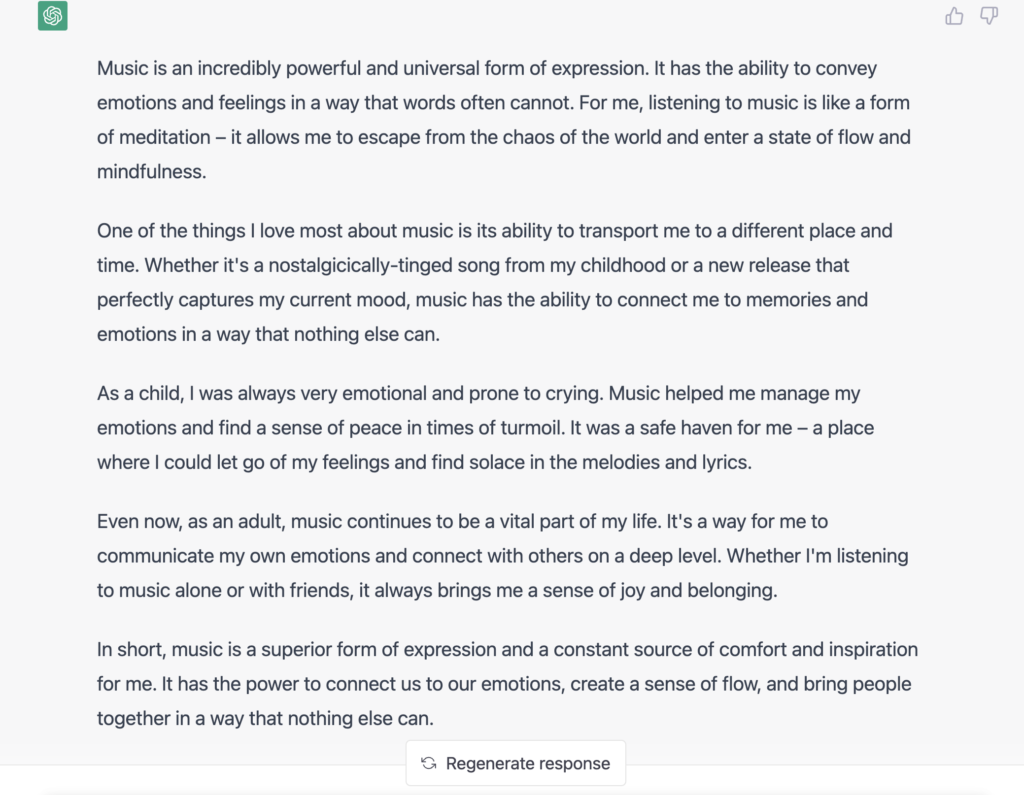 I'll admit, this is the kind of essay I sometimes see getting kids into state schools that just want to make sure you can write… (obviously it's cheating to use this app to write your essay… but the quality level is similar to what in some cases works.) It seems to be really good at creating very flowery language, but it doesn't seem to be very good at actually making keen insights. In short, I sincerely hope colleges stop assuming essays indicate a student's sentence level writing ability.
Can ChatGPT turn my notes and personal details into a winning personal statement?
Let's get real– and feed this bot my notes and details and see if it can synthesize a great story.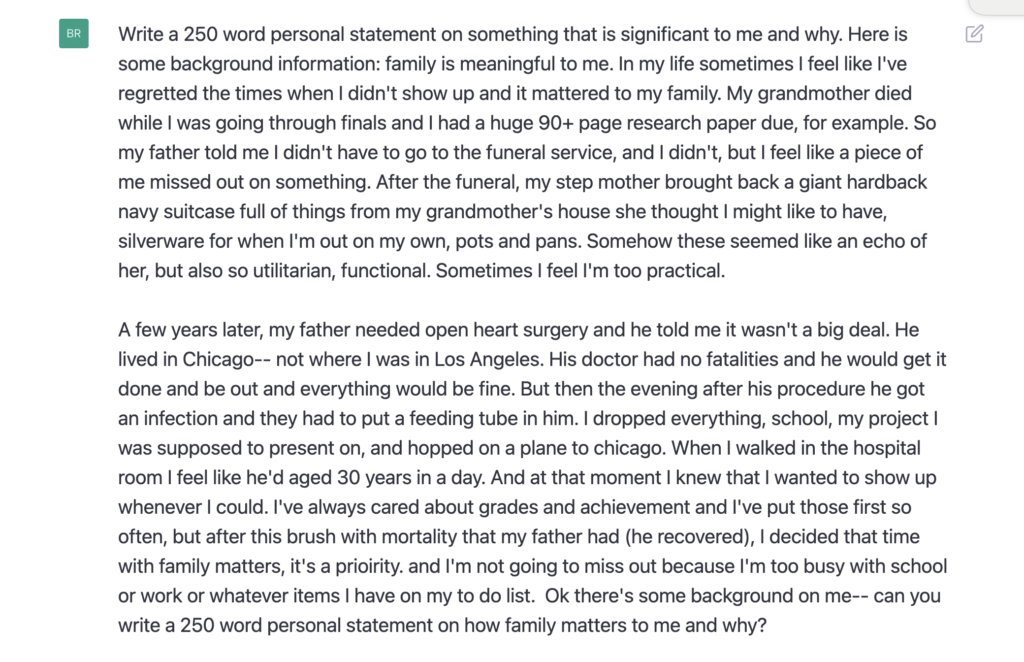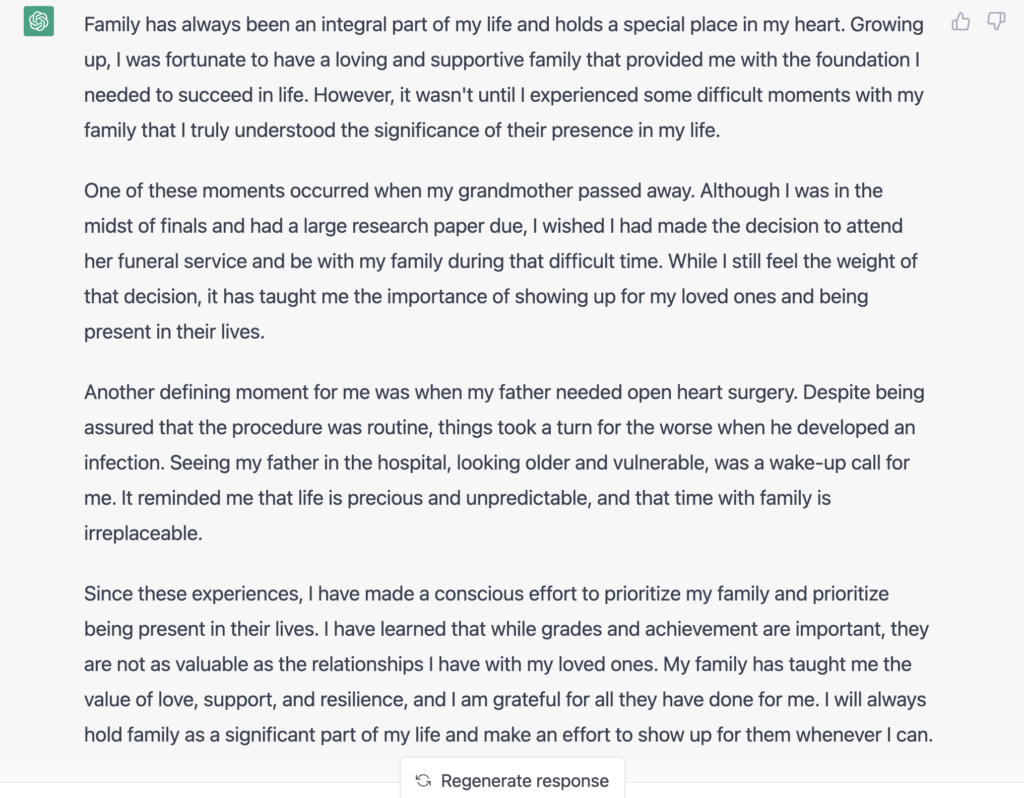 In the paragraph that I fed the bot, some details were quickly swept away– in particular this navy blue suitcase and its contents. In fact, were I coaching a student with a similar reflection, that image might be where we start– it might be an inroad to understanding why we value family– because we're connected– because our lives are in some way the continuation of theirs– that as my grandmother passed away I became the one with her pans, cookie sheets and ladel (with a slightly melted handle). But ChatGPT isn't wise enough to press into the original– it bakes everything back to the median, the typical and in that it finds its fault.
Great writing is unique, has voice, has personality. ChatGPT is an algorithm of averages. Average was never meant to stand out.
ChatGPT does the opposite of what I do as an essay coach in some ways. Rather than pull out the details, it buries them. Rather than find the quirk or the contrast, it finds the safe, the predictable. Rather than understand the metaphor, the deeper take, the original point of view, it boils everything to mundane.
That being said, if you feed things into it, it is a tool that can show you where to maybe put a transition between ideas or organize all your ideas. So if you want to use it as a tool to explore how to organize your ideas for your essay, this could be helpful. But when it churns the oranges of your life into juice, it's mass produced and not worth most serious students' time.
My new bar in essay coaching: could ChatGPT write that? If so, it's time to rewrite.