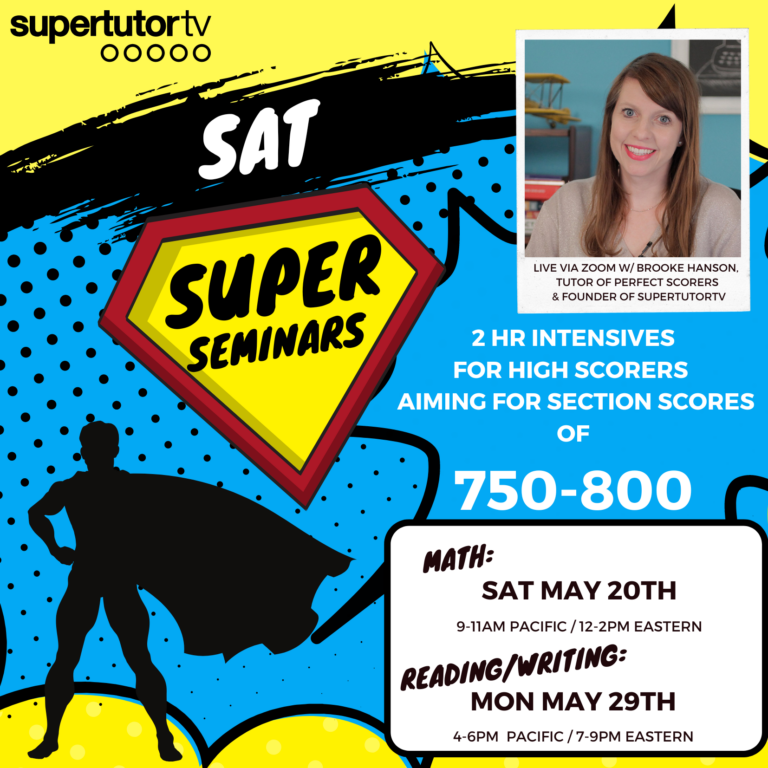 Aiming for a high score on the SAT?
Whether you've got a 700 on a section and want a 750, or a 750 and want a 790 or 800, if you're a high scorer looking to understand the most challenging questions on the SAT, this is the seminar for you!
If you're bored by all-level classes or not in need of a full class or course, this is a great way to prepare.
SAT Math
Saturday May 20, 2023
9-11am Pacific /
12-2pm Eastern
All Super Seminars will cover:
Top Strategies for the Toughest Questions
Managing Time to Optimize Scoring
Top Traps on Tough Questions




Reading Review covers:
Brooke's Top Two Strategies

Flags

Mastering Tough Passages

Evidence Pair Questions

Writing Session covers:
Rhetorical Strategy
Tough Punctuation

Math Session covers:
Self Prep Tips

How to avoid "Bombing"



Nixing Careless Errors


SAT Reading/Writing
Monday May 29, 2023
4-6pm Pacific /
7-9pm Eastern
We'll leave 15 minutes at the end of the session for Q&A, so bring your questions!

Homework Packets will be sent 48 hours before the class.

Level up your SAT math, writing, & reading score with us!