NEW! Amp up your score with our latest two SAT Crash Courses: All sections on August 21st and our Reading Super Seminar on August 11th and 21st.

Learn LIVE! from Brooke Hanson, founder of SupertutorTV and perfect scoring SAT Tutor to amp up your SAT game with our 2 hour Crash Course!
All Sections Crash Course
Sunday, August 21, 2022
4-6pm ET/ 1-3pm PT
$99


+2 hour session includes limited Q&A for the last 15 minutes of the class.

+Plus, gain access to our Reading/Writing and Math "Cheat Sheets."

+Participants, upon request, can also receive a free 5-day, no strings attached limited-access subscription to the "Best SAT Prep Course Ever." (Trial must initiate by the SAT test date immediately following Crash Course, and will last for five days from activation. Course activation may take up to 24 hours from the time of request).

Enrollment includes one 2-hour session attendance. Link to live session sent upon sign up.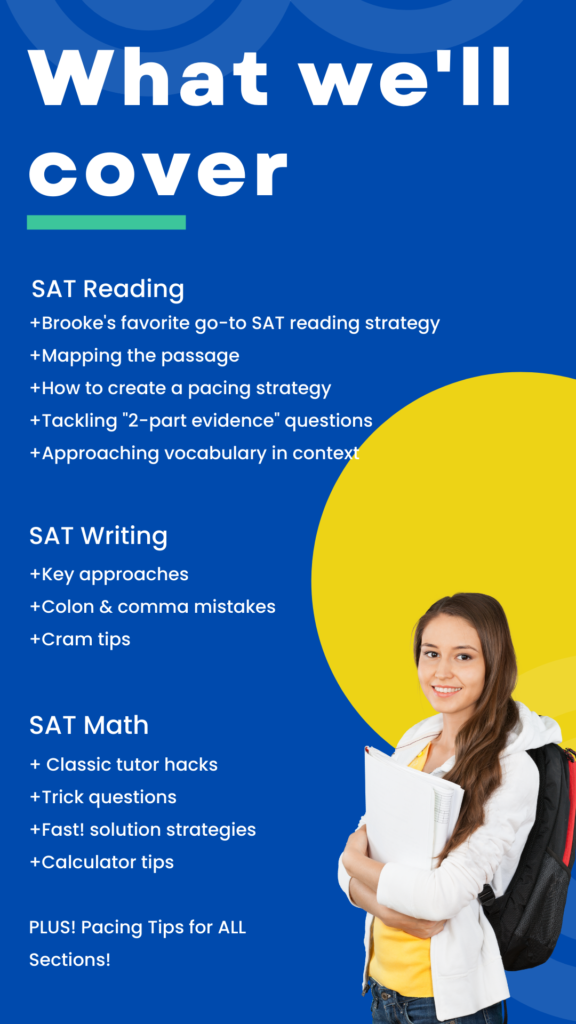 If you're a high scorer looking for help on *just the reading* section, check out our Reading Super Seminar this August!